Whitepaper
Supporting NZ's PRA Compliance Obligations with Microsoft 365
This whitepaper, published by Microsoft in January 2021, documents an assessment by Information Leadership of the capability of Microsoft 365 to support organisations in meeting their obligations under the New Zealand Public Records Act 2005 (PRA).
"The white paper offers a pragmatic approach to supporting PRA compliance obligations, balancing the needs of both information managers and users."
- Lohit Batra, Microsoft's Modern Work and Security Solutions Lead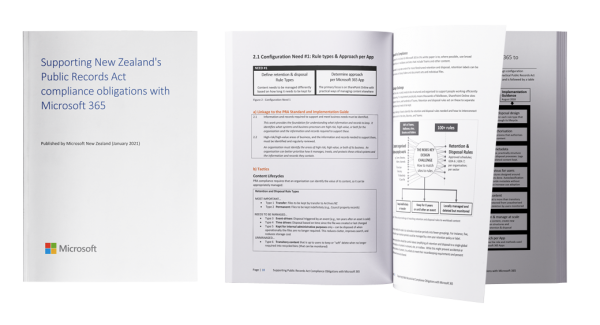 The outcome of our research shows an excellent fit between being able to deliberately design and configure Microsoft 365 and supporting New Zealand's PRA compliance Obligations.
"We're delighted to see the whitepaper released and look forward to the conversations it stimulates. Thanks to; the Microsoft Team for their detailed discussions with us about M365 functionality and capability, and; government agency representatives - the paper is much stronger as a result of their feedback"
- Sarah Heal, Director of Information Leadership
Please log in to view this PDF below.
Not a member?
Register now for free.
Simply click the below register now button, register for free and get access to all of our resources for free.
Register now