31 May 2022
Optimising your inboxes for digital collaboration
| | |
| --- | --- |
| | Véronique Manti - Change Practice Lead returns with more top tips on collaborating with the tools at hand... |
Online tools for communication have soared in popularity as working from home (WFH) or hybrid working becomes the norm. Some people prefer emails, others will direct message you in chat, and some prefer Teams posts. We end up living in two or three different apps just to keep on top of our messages!
Collaboration is the word of the moment – so how do we use the tools at our disposal to be as effective as possible?
At Information Leadership, we are 'Teams First' advocates and we use Teams wherever it makes sense. This means collaborating on documents, social chats and as the interface for our digital workplace (we use Teams to file & find our work).
When working with customers to build their digital workplace, we discuss how it should be set up in MS Teams and work together to establish 'ways of working'. These are the habits and behaviours to promote across the organisation so that everyone knows 'when to use what'.
Here's a model that I've found helpful: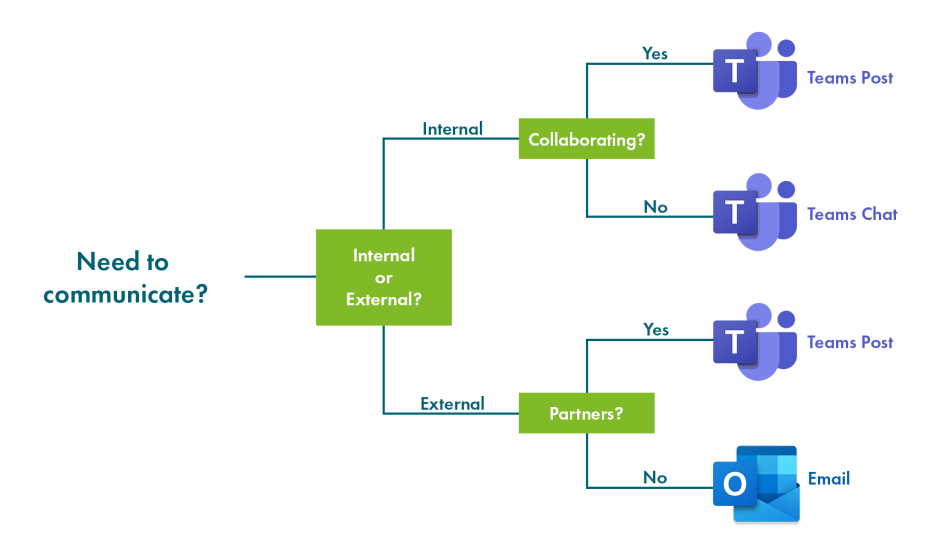 Chat vs Post?
In Teams, there are two different ways to keep in touch: using chats or posts.
Chats tend to be for informal one-on-one (or group) conversations. They are standalone conversations that aren't related or linked to a Team. A chat is private and no one except you and the other person (or people) in the chat can see the content.
Internally, we use chats to check if someone is free for a call or ask if they would like to grab a coffee. We also have group chats for sharing our daily wordle scores and other office interests.
Posts are used for communications related to a particular topic/subject in a team. Everything you post is available to those who are able to access the team.
Posts are searchable and conversations (replies to a post) can be threaded, allowing you to easily organise different conversations within a team. Posts and conversation threads are where collaboration is at its best. You can share ideas, collaborate on files, give feedback, hold polls and so much more in a way that is recorded for future reference and allows you to operate with a single source of truth.
Tips on on how to use Posts
Select the text edit icon to expand the text box. Helpful to avoid sending a message/post before you're ready & giving you more options to craft your post.
Use a header/subject at the top of the post. This allows you to keep all conversations about a subject in the same post.
Use the 'reply' button to reply to a conversation/ post instead of starting a new post. By replying to a post, the whole conversation is documented chronologically and everyone can see the replies.
Keep everyone in the loop and share history. This ensures conversations are there for the rest of the team to view, like and contribute to. Anyone new who is added to the team has instant access to the history.
L An example of a Teams post with subject, @mention and edit text highlighted. R An example of two users collaborating in action, using the top tips.
Ways of working
How quickly should you expect a reply from someone? Should you drop everything you're doing to reply to someone's post or chat?
The cost of interruptions is well researched and documented, so to expect someone to immediately reply is not necessarily practical. This also assumes that people are available at any time.
In the same way I discussed the social contract between people around how to collaborate in a virtual work environment in my previous post, it is important to agree on expectations around response time.
Notifications
When you're working across several workspaces in Teams, it pays to take the time to set up your notifications so that you only get notified about the posts that you really want to follow. The Microsoft help page has step by step instructions for setting up notifications and I have included a few examples below: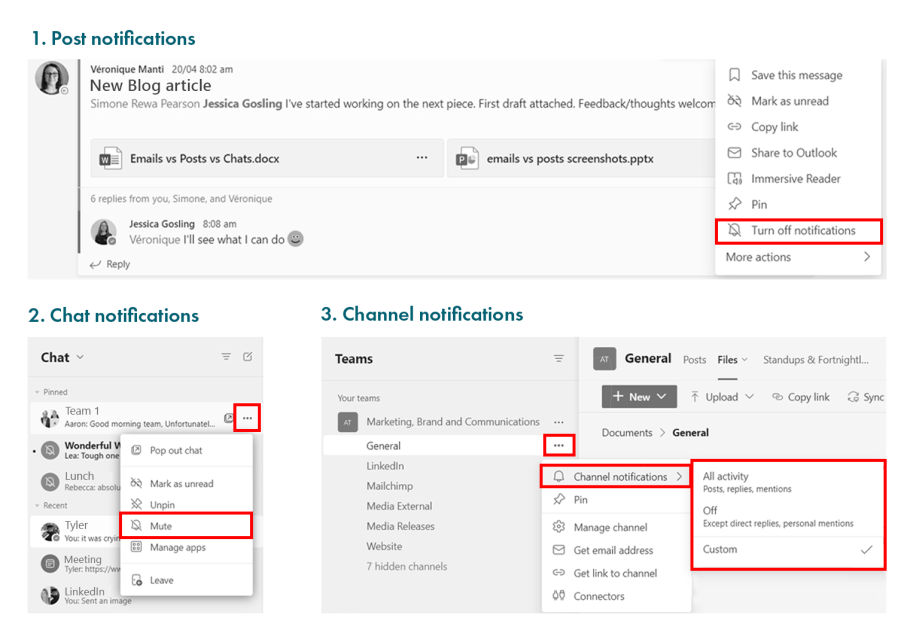 Examples of how to mute or turn off notifications for posts, channels and chats
Food for thought
Taking the time to identify, develop and promote the habits and behaviours ('ways of working') that are going to help people in their day-to-day work is time well invested.
Setting notifications up from the beginning allows people to fine tune the types of notifications they want to receive and prevents overflowing and out of control inboxes.
A shared understanding around response times helps manage expectations and promotes a supportive culture where people are respectful of each others time.
Using shortcuts such as @mentions or @tags are perfect for getting the attention of the right people.
By providing the best possible experience from the beginning, people are more likely to use the tools effectively and are then able to focus on doing their work.
Next steps
Promote & Reinforce: once you have developed your agreed 'ways of working', make sure it is integrated into training at the time of the solution roll-out.
It also should be incorporated in your induction so that new people learn your 'ways of working'.
Regular refreshers (e.g. lunch and learn, tip of the week etc) are also helpful in reinforcing the new habits and behaviours.