29 March 2022
Working remote in the age of Covid & keeping people engaged
| | |
| --- | --- |
| | Véronique Manti - Change Practice Lead writes... |

The traffic light is still flashing red and new cases of Covid are being reported in the thousands each day.
Office buildings have emptied out whilst people work remotely from their homes. As mandates are starting to be lifted to slow the spread of Covid, organisations are reducing numbers in the office by operating a roster system for office/at home working.
Driven by the need to adapt, organisations have had to fast-track their move to digital workplaces, empowering their people to work 'from anywhere' and 'from any device'.
Microsoft Teams supports collaboration
As experts in change management and use of Microsoft Teams to support hybrid working, we've adapted our approach to helping clients through this period of rapid change. This ensures organisation-wide adoption and enthusiasm for the new 365 platform, as well as a successful technical project delivery.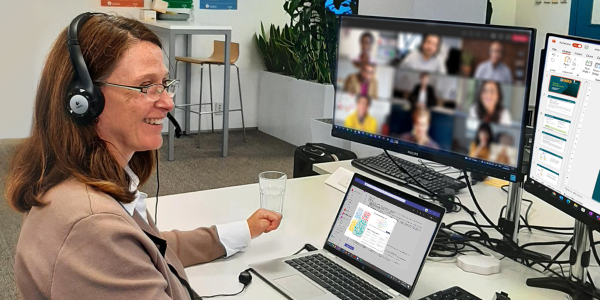 Information Leadership's Change Practice Lead, Véronique Manti, has shifted all change management workshops online using Microsoft Teams.
Usually the technical roll-out is the easy part of the project. The biggest challenge is helping people adopt the new tools in a way that is going to help them work effectively and quickly. New tools, a new digital platform, and new ways of doing things are a lot of changes for people to adapt to. Combined with the pressures of working from home and uncertainty around the pandemic, change management is essential for keeping people engaged throughout the process.
One solution I have found that is helpful is developing and implementing an organisation framework around new ways of working. Most people are experiencing meeting fatigue, moving from one call to another, with limited breaks and focus time to actually get work done. The key to getting this right is that everyone across the organisation should follow the same 'rules of engagement'.
Tips & tricks that can help:
Keep meeting durations to 25 minutes or 50 minutes

– and stick to the beginning and end time. This gives people time to take a short break between meetings and means that everyone can arrive on time to the next meeting. Microsoft has a default meeting length setting that can be changed to support this.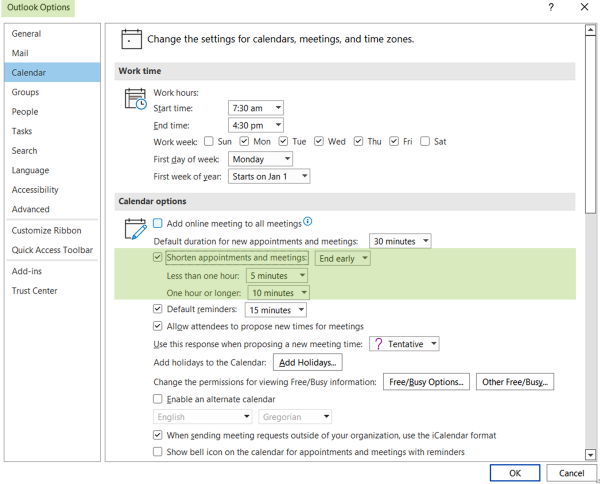 Save time by changing the default meeting length in the settings in Outlook > Options > Calendar -this ensures there can be a short break in between meetings.
Agree that meetings will start on time

– No more waiting 5 or 10 minutes for people to arrive from another call. This only works if the duration of the meetings (as per the point above) is agreed and managed.

Have a clear agenda with an expected outcome

–

(1) decision required (2) information sharing (3) problem solving (4) input/feedback to help

make a decision

. This helps with keeping meetings from running late. 1 meeting = 1 outcome.

Book 'focus time' in your calendar to complete work

–

this prevents it being booked over without asking you first

.

H

owever i

t

can be tricky

to manage

when trying to schedule meetings around everyone's focus time. A solution that seems to work for many organisations is to have 'no meeting' days: Fridays seem to be the most popular day.

Cameras on? – This can vary, I'm an advocate of cameras on when possible, but for people working from home, it may not necessarily be practical. Using the blur background feature in Teams can be useful in this situation. I have also seen people getting creative with their backgrounds using MS Teams templates, company logos or even their favourite holiday spot!
This is a social contract, and as such, people should be part of the conversation to decide on these 'rules of engagement'. A bottom-up approach is always more effective as people know what works best for them; and if they contribute to the 'rules', they are more likely to follow them.
Walking the talk
Running workshops
Prior to Covid and the need to work entirely online, I used to engage with customers through day-long, in-person change management workshops using a series of activities to keep them interactive and engaging. Since moving to remote workshops, I have found that the following have been most effective:
Break down the workshops into shorter focused sessions -

1 meeting = 1 outcome

Booking meetings for 1.5hr -

Knowing that I will only get 1 hour of work done, I structure content accordingly. Sessions typically have between 8 and 15 attendees, so it takes a while to get started; and I make sure I finish 15 minutes early.

Converting in-person activities to online equivalents

– Microsoft Teams chat and other online tools such as virtual polls or whiteboard sessions encourage engagement from the group.

For e

xample,

we use Microsoft Forms to run live polls at the end of a session to get immediate feedback on how well the session was receive

d;

we use

Mentimeter

to run sessions in which we want to give all participants an opportunity to contribute, and

Miro

for brainstorming sessions.

L-R, Microsoft forms are great for adding a poll to your Teams meeting or chat; Mentimeter audience engagement tool lets you engage with your audience using live polls, word clouds and more; Miro digital whiteboard brings meetings to life with sticky-note style brainstorming and note taking.
At Information Leadership we've found the following things work well during our internal meetings:
Cameras on

- We expect the odd cat or dog participating in or disrupting the proceedings!

Partners and children in the background

– Part of being home may be that coffee is delivered to your desk or you get to see their latest drawings

Follow the agenda

– Run out of time? Ask everyone in the meeting if we continue or stop. If continuing, agree for no more than 15 minutes; if stop, agree how the remaining agenda items are carried over (this may be a separate session or involve waiting until next week)

Keep it light and learn from each other

- Some of us have joined the Wordle craze, others love sharing their tip of the week (did you know you can do this?)
To email or not to email - that is the question
One of the benefits of implementing a digital workplace is reducing the number of emails, whilst increasing collaboration. I will cover this topic next time.
I'd love to hear about what works for you and your organisation in keeping people engaged and helping them navigate in these turbulent times. Please email me here > veronique@informationleadership.com